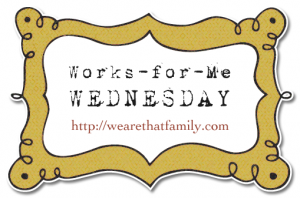 Woo-hoo! I'm
finally
updating AND participating in a Blog Carnival.
So what works for me?
Well, my new homeade wipes are working wonders around here!
As my now 13 month old daughter has gotten very interested in feeding herself lately we quickly noticed that we were using up an extraordinary amount of paper towels and/or disposable wipes each meal.
The solution was to whip up a handful of homeade wipes with some left over flannel from some homeade burp clothes I made before Miss Lucy was born. I cut the flannel in squares the size of a medium board book (nope, sure didn't measure!) Most of the squares I sewed flannel to flannel--but I also had a small amount of terry cloth material I had picked up from a remnant bin, so a few of the wipes are flannel with terry cloth lining.
am seriously the least talented person when it comes to operating my sewing machine, but these were so stinkin' easy! Whip yourself up a few!